If this gets me in hot water; so be it. 
Pirate radio serves a purpose. It's not a crime; it's a duty to keep the freedom of speech and the spirit of humanity alive.  http://www.cnn.com/2016/10/22/middleeast/mosul-offensive-pirate-radio-ir... 

Irbil, Iraq (CNN)Not far from Mohamad Al Mawsily's studio, fierce battles are raging to oust ISIS from the northern city of Mosul. But from his secret location, the young Iraqi businessman is waging another war against the militants on a daily basis. Less bloody? Yes. But, still potentially lethal.
There are no bullets and bombs in this building. No high-definition images of war being broadcast to the world on TV or social media. Here, there are only two things that ISIS hates: music and truth.Almost a year after ISIS imposed its signature tyranny in Mosul and surrounding Nineveh province, Al Mawsily and two partners launched a radio station for the million or so residents left trapped in the beleaguered city. They named it Alghad, or tomorrow, in hope of a better future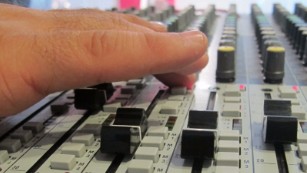 Alghad FM broadcasts into Mosul as well as online, where displaced Iraqis around the world can listen.Alghad FM defies ISIS with its programs, and so everything about the station has to be kept underground, including the identities of the staff. Al Mawsily means "from Mosul" and is not the 28-year-old founder's real name. He didn't even tell his own parents about his clandestine endeavor, though they eventually pieced it together.Alghad's studio in the relatively safe Kurdish region of Iraq -- CNN was invited there after a pledge to not give away the location -- offers no signage or other visible clues the station is relaying the voices of Mosul that would otherwise go unheard."It was a way for us to break the siege by Daesh," Al Mawsily tells me in his office on this evening, using the Arabic term for ISIS.

We have loyal listeners in an abnormal time and in an abnormal situation.
 I've arrived just in time for the start of Alghad's popular 50-minute segment called "Deliver Your Voice." The talk show is similar to others in many ways, except one: Most of the callers are from a city under siege."We have loyal listeners in an abnormal time and in an abnormal situation," Al Mawsily says. "It is important to break the ideas of Daesh. They want people not to trust each other." Those listeners include people from Nineveh province displaced from their homes by violence. They live elsewhere in Iraq or as refugees in Europe, Australia and the United States and live-stream the broadcasts online."We've developed a Moslawi community," Al Mawsily says. "The radio station is their way of communicating with their loved ones." click the link to read the rest